Giving Back
The First Lady and Dr. Biden have met with military families, learned about their successes and challenges, and made it their priority to support them. Joining Forces is a comprehensive national initiative to mobilize all sectors of society to give our service members and their families the opportunities and support they have earned.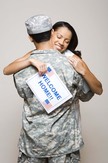 "The spirit of service and selflessness that is seen in military communities across our country represents what is best about America, and as a Nation we owe our brave service members and their families more than gratitude - we owe them the support they have earned. Joining Forces will ask all Americans to take action, because each of us has a role to play in reconnecting with military families in our communities." -- First Lady Michelle Obama
Sheila Keast Etiquette is proud to support the Joining Forces initiative by donating etiquette instruction to veterans, service members and their families.  
Thank you so much for your participation in our Career Event at Lomie Heard. Your presentation was both educational and inspiring. The students and staff enjoyed meeting you and learning what etiquette was along with some basic manners. You helped to create wonderful memories and hopefully the students will apply your lessons in real-life situations. I plan this event each year and will call upon you in the future.




Terry Ann C. Lomie Heard Elementary School,

Nellis Air Force Base, Las Vegas
Sheila donates a minimum of one hour of etiquette classes for every client who signs up for a series of 4 or more etiquette classes.  These donated etiquette classes will be provided in the Las Vegas area.
Sheila's Giving Back efforts have been featured in the Las Vegas Review-Journal story by Maggie Lillis titled "Henderson resident offers valleywide etiquette training to veterans". Read more…..
If you have suggestions or requests for my donations of Etiquette Classes please contact me by completing the form below.
Join me in helping our heroes and give the Gift of Etiquette.
For more information about Joining Forces.