Are you tired of having to teach your children good manners?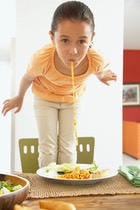 Studies have shown that children seem to be more receptive to etiquette instruction when it comes from someone other than their parents.  
I can help children and teens of all ages focus on the table manners, communication and social etiquette skills they need to succeed in the classroom, at home, and eventually as they enter the world as adults. 
I incorporate tasty foods into my classes so that the kids can practice in a realistic way, or I can theme the class on a English Afternoon Tea which kids (and parents!) love.
Sheila Keast etiquette classes were so much fun, educational and exciting for our children.  My daughter (6 ½) had great table manners when dining out, however struggled at home with sitting in her chair, chewing with her mouth closed and eating with her silverware.  When instructed by myself, she didn't want to hear about how to eat properly.  Sheila came into our home and taught her how to eat with proper etiquette and manners whether dining at home or out.  She made it fun and exciting as they cut their food (European style), spoke about proper table talk and incorporated manners in any general setting.  They learned so much. I must state that my daughter was not looking forward to etiquette classes and after her first class, she couldn't wait for Ms. Sheila to come back. Thank you, thank you, Ms. Sheila!!   Kim N.
Parents are welcome to stay during the class. While the children are in class you can relax with a book, have a cup of coffee, workout in our gym (Las Vegas only) or run a few errands.  Classes can be tailored to your specific needs from the following:
Social Etiquette
Welcoming Behaviors

Common Courtesies

Proper Greetings and Introductions

Conversation Skills


Listening Skills

Thank-you Notes
Table Manners
Table Settings

Setting the Table

Styles of Dining

Eating Various Foods

Behavior at the Table

Handling the Utensils
My children had a great time with Sheila.  I had 3 children at my home for a 2 hour table manners / thank you note writing session and they were engaged the entire time.  Even my 5 year old son participated for 1 solid hour. My daughter has been eager to demonstrate her 'European' table skills and is anxious to WOW everyone when we host Thanksgiving.  I am a stickler for table manners and think learning from someone other than parents is a great way for children to realize table manners are important. Stephanie B.
Now is the perfect time to invest in your children's social etiquette and table manners skills so they attact the comments and compliments that will make you proud.