English Afternoon Tea & Etiquette Class
Sheila Keast Etiquette and English's Quintessentially British are proud to host English Afternoon Tea and Etiquette Classes at Town Square, Las Vegas.  
Come and join us for the classic English afternoon past time every Thursday and spend time with Sheila.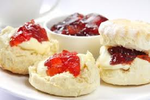 We'll serve English's Cream Tea service - thick warm scones pilled with heavy cream and strawberry jam, scrumptious house made petite fours and cucumber sandwiches, the perfect afternoon tea selection while you enjoy a informative and fun etiquette class that will further enhance the overall experience.
Great etiquette class at English's today! It was so great to meet you, Sheila. I would highly recommend your class. Thanks again for everything!  Erin T.
This class is ideal for you and your children and their friends - it's fun and engaging and you'll leave with lasting skills and memories and having experienced the English afternoon tea experience - and is a great way for Girl Scouts to earn their Manners badge.

Where: English's Quintessentially British, Suite 210, Town Square, 6599 Las Vegas Boulevard South, Las Vegas, NV, 89119. For Directions
When: Typically every Thursday at 3 pm - but other weekdays available by request - please call (415) 999-1283
Price:  Adults $50 / Children $30 (up to age 14) when paid in advance, or Adults $55 / Children $35 if paid at the event. Discounts for 6 or more available.
Payment: Cash, Credit Cards & PayPal Accepted.
Reservations: Please call (415) 999-1283 to reserve your seats, or complete the form below to indicate the date(s) you would like and the number of Adults and/or Children in your party. 
Cash, Credit Cards & PayPal Accepted